Stock-to-flow model possibly invalidated as Bitcoin price loses $30K
As the price of Bitcoin (BTC) continues to struggle around the $30,000 mark, the widely accepted stock-to-flow (S2F) model to price Bitcoin, coined by Twitter user and unnamed Dutch investor Plan B, is now the farthest from its estimates. 
The model was popularized by the Twitter pseudonym more than two years ago in March 2019 and amid a minor bull through Q1 2019. It's considered to be one of the leading quantitative valuations for the first-ever scarce digital currency. The model presumes that scarcity of certain assets or commodities drives its price.
The S2F model is an attempt to price Bitcoin in a way similar to scarce commodities, such as gold, silver, etc. The essence of it is that assets like Bitcoin, gold and silver have only limited supply injections in a certain period of time when compared with commodities like oil, copper and steel, where the supply flow is higher and considered to be theoretically limitless. 
Since Bitcoin has a maximum supply limited to 21 million tokens and considering the time- and energy-intensive mining process, there is only a certain number of new Bitcoin that can come into circulation in a certain timeframe. The premium cryptocurrency had fit right into this model, until now. Johnny Lyu, CEO of KuCoin Global — a cryptocurrency exchange — told Cointelegraph:
"The model creator tried to predict the continuously surging Bitcoin price based on its scarce nature similar to gold in that it also has a high stock-to-flow ratio. Therefore, the hypothesis is: As Bitcoin's stock-to-flow rises, so will its price."
He went on to say that models like these are usually built on historical data and that while some periodic trends can help identify the general direction of the market, specific trends can often be difficult to track in advance.
Deflection from S2F model at an all-time high
According to the S2F model, BTC's price is supposed to be at $88,531 on July 20, which is nearly three times the current price. In fact, earlier this year, PlanB suggested that Bitcoin could hit $450,000 before the end of this year in the best-case scenario, and $135,000 in the "worst-case scenario." Furthermore, the model predicts that Bitcoin is expected to have hit its much-awaited $1 million mark in July 2025.
However, in a PlanB Twitter poll on June 21, 41% of respondents thought that Bitcoin would remain under $100,000 this year.
This is compared to the 16% that believed the same back in March when Bitcoin was exchanging hands at $55,000. PlanB went on to say that Bitcoin prices deviating from the S2F model make even him feel "a bit uneasy."
The model, as the name would suggest, uses the stock-to-flow ratio to value Bitcoin. This ratio is defined by the current number of Bitcoin in circulation at a given time and the incoming flow of newly mined Bitcoin. As evident in the chart describing the model, historically, Bitcoin has traced the price estimates in a fairly accurate fashion at most times.
As pointed out by Lex Moskovski, chief investment officer of Moskovski Capital, the negative S2F deflection — the ratio between the market price of Bitcoin and the S2F ratio — is now the highest it has ever been in the history of the token. He went on to say that for believers in the S2F model, this is a great time to buy Bitcoin, as this price drop could be perceived as an unexpected dip.
Lennix Lai, director of financial markets at cryptocurrency exchange OKEx, spoke with Cointelegraph on the limitations of the S2F model, saying: 
"Despite its limited predictions, the S2F model only had limited power over Bitcoin price prediction because it assumes the production of Bitcoin will be limited. While its simplicity makes the concept easier to understand, PlanB debuted the Bitcoin S2F model back in 2019. Demand back in the time is a different story to now, in which demand has a direct influence on its intrinsic value."
Demand and adoption dynamics have shifted
One of the major changes in the past year for Bitcoin and the cryptocurrency markets as a whole is the high rates of institutional and retail adoption that have drastically increased since March 2019. Another important factor in this demand and adoption dynamic is the COVID-19 pandemic that has plagued the world for more than 19 months now. Lai elaborated more on this, saying:
"The pandemic has probably also accelerated adoption, as the USD supply has inflated massively over the last year. Investors are seeking alternative assets to place their money in as a hedge against inevitable inflation. We also see daily analyses from well-respected firms and institutions predicting that Bitcoin is undervalued, the Musk effect is an ambush to the market."
The Musk effect, combined with various other factors, such as the mainstream popularity of nonfungible tokens (NFTs), has played a large role in raising awareness about cryptocurrencies and blockchain technology in general. 
Lyu touched upon this changing scenario in the cryptocurrency market as well, saying, "The emerging projects and altcoins on the market with diversified application scenarios will distract investor attention and diversify their existing investment portfolios, thus continuously fluctuating the Bitcoin market." This change is evident in the fact that, since the beginning of this year, Bitcoin's dominance as the premier cryptocurrency has fallen from over 60% to its current 46.3%, signifying a growing altcoin sector.
In a recent example of the shift in demand and adoption dynamic since the inception of the S2F model, the Grayscale Bitcoin Trust Fund (GBTC) recently underwent several share unlockings across July, with the biggest on July 18. This expiry further increased the continual downward pressure on Bitcoin, causing it to drop further to trading around $30,500 on July 19, dropping from nearly $32,200 on July 18 before the expiry. In the past — when the S2F model initially became prevalent — there wasn't institutional demand that could heavily impact the market in a short amount of time.
The rate of adoption model might be more accurate
While the S2F model is one of the most widely known quantitative models that predicts Bitcoin's price in the short term (less than five years), there are several other models that are often used to gauge its price potential. Daniele Bernardi, founder of the PHI Token project and CEO of Diaman Partners Ltd. — a fintech asset management company — explored some of these models in a recent paper. Bernardi evaluated the inadequacies of the S2F model, stating to Cointelegraph:
"It is not enough to consider the scarcity to predict the fair value price of an asset, because of course, it has to be supported by the demand. My mom can draw some art, but if no one wants to purchase them, the value is zero despite the scarcity."
Instead, Bernardi prefers the rate of adoption model, which he explores in his paper. He stated that, according to this model, the "fair price" of Bitcoin can be around $60,000, but not more than that. This estimate is based on the "actual users of Bitcoin and the wallets created." 
He went on to explain the probability of PlanB's S2F model actually coming into fruition this year: "Of course, anything can happen, but from my point of view, there is less than 20% of probability, based on Monte-Carlo simulations, that the Bitcoin price will reach a value greater than $100,000 in 2021."
Related: Forecasting Bitcoin price using quantitative models, Part 3
That said, it is important to remember that Bitcoin was exchanging hands at $18,000 for a few days in the March 2017 bull run and went straight to trading at $64,000 in March 2021. 
There are not many assets in financial markets that have witnessed gains at these levels within such a short time span. Bernardi explained the impact of this growth:
"We have to consider that only after six months that the Bitcoin price hit a value greater than $30,000, we are tempted to consider the Bitcoin undervalued, but it is not; it is just in the fair value average price, based on our 'rate of adoption' model."
Fair value or not, Bitcoin seems to be in a period of turmoil, more often than not facing downward pressure on the token since the flash crash on "Black Wednesday" n May. However, positive institutional news keeps flooding in. Most recently, Grayscale CEO Michael Sonnenshein said that Grayscale is "100% committed" to turn GBTC into a Bitcoin exchange-traded fund.
US senators tell athletes to avoid digital yuan, Chinese exchange volumes rebound … and more – Cointelegraph Magazine
This weekly roundup of news from Mainland China, Taiwan, and Hong Kong attempts to curate the industry's most important news, including influential projects, changes in the regulatory landscape, and enterprise blockchain integrations.  
Olympic battle
After months of writing about the relentless actions of the Chinese government, this week we lead with a story from the US Government. On July 19, three US senators signed a letter addressed to the to U.S. Olympic and Paralympic Committee, requesting US athletes not use the e-CNY in February's Winter Olympic games in Beijing. The logic was that the digital currency would be traceable after the athletes returned to the US, in case China was interested in tracking foreign bi-athletes and bobsledders in their offseason training regiments. 
China's Foreign Ministry spokesperson Zhao Lijian snapped back that the senators "should stop making troubles" and "figure out what a digital currency really is." Zhao apparently believes that the US lawmakers might not be up-to-date on the latest in technology, something the crypto-enthusiasts on Twitter have been bemoaning for years. 
All sarcasm aside, this points to a growing trend of consumers being caught in geo-political struggles around technology, which could become a much larger issue as CBDCs become more prevalent. Users can choose to avoid certain hardware or apps that provide a data security risk, but avoiding the local currency will be a much more difficult choice to make. Cash use has dropped to a negligible amount in China, with the bulk of daily transactions being digital through Alipay and WeChat. Traveling or living in China without touching the digital currency will be a huge inconvenience, and one likely to not go over well with future generations.
Leading the pack
On July 19, Cointelegraph reported that Chinese Bitcoin miners had earned close to $7 billion dollars in the past year, ten times higher than miners in the second highest country, the US. This trend might be broken up slightly by the regulatory crackdown this year, but still shows the influence China has on the industry, especially if large Chinese companies can continue to set up operations in neighboring countries.
Axie Infinity's token is taking off faster than the game in China (Source: Axie Infinity).
Chinese volumes bounce back
Volumes on Chinese exchanges Huobi and OKEx rebounded slightly compared to the same time last week, including on the derivatives side where the two exchanges made up around 44% of Binance's volume, compared to only 38.7% at the same time the week before. Gaming token Axie Infinity remained a hot token for trading, and was the fourth-most traded token on Huobi on Thursday behind BTC, ETH, and DOGE. Actual gameplay hasn't really taken off in China, and even though the site remains unblocked by the Great Firewall thus far, visits to the website are still scarce. Users from the Philippines make up 40% of website visitors, whereas China accounted for less than 3%. China boasts the largest gaming community in the world, but tight restrictions on cryptocurrencies is likely to limit the growth of public blockchain-based gaming for the time being. Speculating on gaming-related tokens, however, will likely remain a strong trend. 
It's worth noting that in the short term, the regulations looming on the horizon makes betting on exchanges a risky proposition. Many rumors have swirled about upcoming action to be taken by Chinese regulators, particularly for repeat offenders in the area. Regulators in smaller countries seem to be waiting to see who will throw the first punch.  
Non-fungible fossils
Hong Kong's most prominent newspaper South China Morning Post is launching an NFT platform aimed at historical news and items. This platform will let verified issuers mint and trade NFTs in an open marketplace. This should appeal to a broader audience of collectors and non-crypto native users in Southeast Asia, as well as a government interested in exporting soft power to the world. 
Bitcoin Crashes Below $30,000, Bear Market Or Bullish Setup?
Bitcoin has finally crashed below $30,000 for the first time in a month after the digital asset had recovered above this point following the crash to the $28,000 range in the last month. Market volatility levels have continued to remain low while the digital asset price continues to suffer. Market sentiments seem to remain in the extreme fear range as investors hold off putting more money into digital assets.
Bitcoin continues to show bearish tendencies as, despite best efforts, bulls have not been able to drag the Coin
" href="https://www.newsbtc.com/dictionary/coin/" data-wpel-link="internal">coin out of its three-month-long decline. Breaking the critical $30,000 hold that holders have tried to keep the digital asset price. Market indicators so far continue to show that the digital asset might be headed for further decline.
Related Reading | Retail Traders Pile On Shorts, Is This The Bitcoin Bottom?
The price of the digital asset has now hit the same price that the Coin
" href="https://www.newsbtc.com/dictionary/coin/" data-wpel-link="internal">coin was at the beginning of the year 2021. Showing that this dip might be continuing on further down than the market anticipates.
Bitcoin Market Dominance Continues To Decline
Bitcoin is the first cryptocurrency and certainly the most valuable has always maintained market dominance over the other crypto assets in the market. The market dominance was well above 50% at the beginning of the year but now that number has declined to less than 50% market dominance for the Coin
" href="https://www.newsbtc.com/dictionary/coin/" data-wpel-link="internal">coin.
Bitcoin market dominance at 42% | Source: BTC Dominance Index Chart from TradingView.com
The price crash in May saw the market dominance for the digital asset take a sharp decline as other crypto-assets started to step up their game and take more market share. With coins like Ethereum slowly but surely taking a much larger market share.
Related Reading | Bitcoin Might Already Be In A Bear Market, Investors Just Don't Know It Yet
Bitcoin dominance saw sharp declines in 2017 when other crypto assets started gaining notoriety. In 2017 alone, the digital asset saw its market dominance go down from 95% to 52%, before recovering up to 70% as the last Bear
" href="https://www.newsbtc.com/dictionary/bear/" data-wpel-link="internal">bear market raged on. But now, bitcoin has started losing much of that dominance, currently sitting at 46% market dominance.
Bear
Bear market is defined as a decreasing set of prices for various types of assets. A bearish investor wants to profit from the movement of dropping prices. You can think of a bear, swinging his big paw downward on the investment, crushing prices.
" href="https://www.newsbtc.com/dictionary/bear/" data-wpel-link="internal">Bear Market More Likely Than Bullish Setup
Massive FUDs in the market might point more to a bearish trend than it does to the bullish setup. There have been debates about whether events like the China crackdown on mining and crypto bans have been a good indicator for the crypto market at large and consensus seems to be that the events will help to make digital assets even more valuable.
While things like this might be true in the long term, it seems so far to not be good for the long term. With the FUDs have come decreasing prices in the market and the charts continue to be in the red.
Bitcoin price crashes below $30,000 | Source: BTCUSD on TradingView.com
With investors still being wary of putting money in the market, the price has so far suffered. Despite institutions like Michael Saylor's MicroStrategy continuing to be bullish on bitcoin.
Bitcoin is currently trading at $29,764, with an overall market cap of approximately $557 billion.
Featured image from Investment U, charts from TradingView.com
Bitcoin Bears Lose Strength, What Could Trigger A Decent Recovery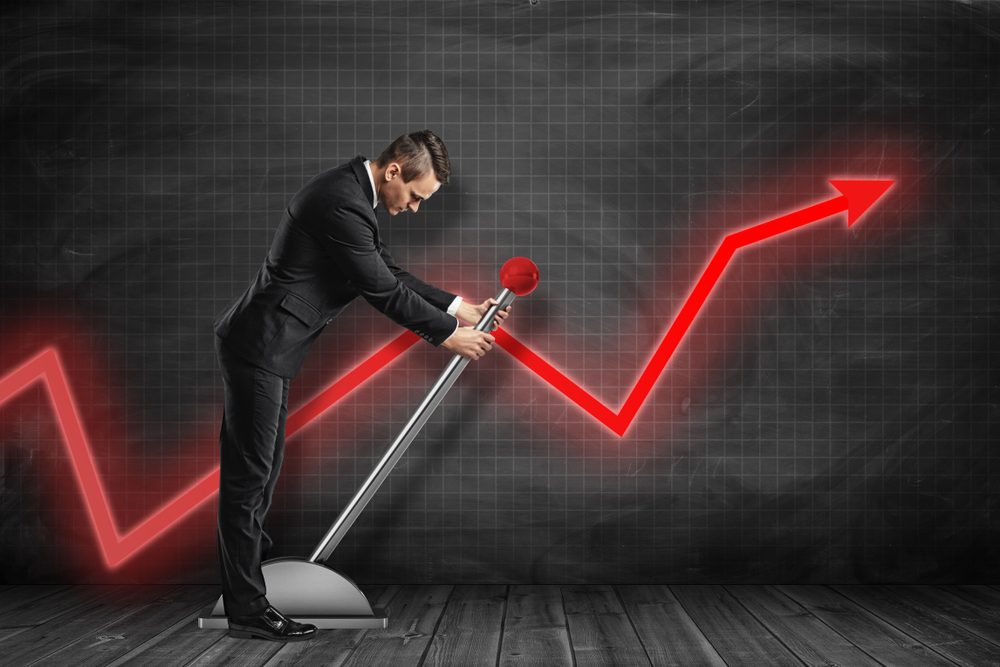 Bitcoin price extended its decline below the $30,000 support against the US Dollar. BTC is finding bids near $29,250 and it might attempt an upside correction.
Bitcoin is following a bearish path and it broke the key $30,000 support zone.
The price is now trading well below $31,000 and the 100 hourly simple moving average.
There is a key bearish trend line forming with resistance near $31,300 on the hourly chart of the BTC/USD pair (data feed from Kraken).
The pair could start a decent upside correction if it remains stable above the $29,250 level.
Bitcoin Price Settles Below $30K
Bitcoin price extended its decline below the $30,200 and $30,000 support levels. BTC even settled well below the $30,000 level and the 100 hourly simple moving average to move further into a bearish zone.
The price even spiked below $29,500 and traded as low as $29,313. It seems like bitcoin is forming a support base above the $29,250 level. An initial resistance on the upside is near the $30,000 level. It is close to the 23.6% Fib retracement level of the recent downward move from the $31,900 swing high to $29,313 low.
The first major resistance is near the $30,600 level. It is near the 50% Fib retracement level of the recent downward move from the $31,900 swing high to $29,313 low.
Source: BTCUSD on TradingView.com
There is also a key bearish trend line forming with resistance near $31,300 on the hourly chart of the BTC/USD pair. In the short-term, bitcoin price might start a decent recovery above $30,000, but it might face barriers near the $31,000 level in the near term.
More Losses in BTC?
If bitcoin fails to recover above the $30,000 and $30,600 resistance levels, there is a risk of more losses. An initial support on the downside is near the $29,350 level.
The first major support is now near the $29,250 zone. A clear downside break below the recent low and $29,250 might call for a move below the $29,000 level. The next key support is seen near the $28,000 level.
Technical indicators:
Hourly MACD – The MACD is now losing pace in the bearish zone.
Hourly RSI (Relative Strength Index) – The RSI for BTC/USD is rising and it might soon clear the 50 level.
Major Support Levels – $29,250, followed by $29,000.
Major Resistance Levels – $30,000, $30,600 and $31,000.