South China Morning Post to tokenize 118-year-old archive with NFTs
Veteran Hong Kong-based newspaper South China Morning Post (SCMP) is creating a series of NFTs using a new token standard called "ARTIFACT," designed to preserve historical assets on the blockchain.
In its ARTIFACT Litepaper, SCMP presents an overview of the project, which is a standardized metadata structure that can be used to ensure that key moments from SCMP's 118-year-old archive of media assets can be preserved through distributed ownership and circulation.
Gary Liu, SCMP's CEO, has said that "blockchain offers immense potential to immutably preserve journalism that witnesses and explains history. The 'ARTIFACT' project is an opportunity to discover, collect, showcase, trade, and reanimate meaningful moments and objects from our collective human experience."
SCMP's NFTs will be broadly inspired by the newspaper's archive of documentary photography, visual illustrations, data visualizations and infographics. Representing journalistic "first drafts of history," these include text, photographs, cartoons and illustrations amassed by SCMP over more than a century.
While the token standard will be blockchain-agnostic in the long term, SCMP has chosen a few blockchains to begin its project and unfold its possibilities. To help to reanimate its history and engage a wide audience, it has entered into partnership with the Ethereum-based metaverse The Sandbox, a subsidiary of the blockchain startup Animoca Brands. 
In collaboration with local game studios and digital artists, The Sandbox will create a series of 3D voxel-based interactive gaming and cultural experiences based on modern and historic landmarks and artifacts in Hong Kong and mainland China. 
Landmarks like the Kowloon Walled City and the Star Ferry will be integrated into the blockchain-based metaverse. Liu has indicated that players will, for example, be able to virtually experience scenes from Hong Kong in the 1950s and learn about its historical complexities through SCMP's reporting from the time.
Related: Nifty News: The Walking Dead invades Sandbox, mining lease NFTs, CryptoPunk in art gallery
The Sandbox has announced that on July 22, players will be able to purchase plots adjacent to the SCMP project in the form of the metaverse's native LAND tokens. Speaking of the partnership, Liu told the SCMP today that "our hope is that over time, we will create metaverse environments for people to experience historical Hong Kong, historical China and to learn about the beauty and the complexity of this part of the world."
Within The Sandbox's metaverse, LAND tokens can be grouped and assembled into virtual estates by various of The Sandbox's partners or users. For example, game developer Atari has used these scarce, digital spaces to host 3D voxelized versions of its classic games.
Individual players can also buy LAND themselves and use them as locations for constructing and launching their own independent gaming content. 
To date, The Sandbox has had over 40 million global installs on mobile and brought in over 1,300 Ether (ETH) with the first and second of its LAND presales. The metaverse is scheduled for an Alpha public launch this summer.
'Ethereum Improvement Proposal 3675' for the Eth2 merge launches on GitHub
A formal Ethereum Improvement Proposal (EIP) has been created for the network's forthcoming chain merge, bringing Ethereum one step closer to realizing its highly anticipated proof-of-stake (PoS) transition.
On Thursday, ConsenSys researcher Mikhail Kalinin created a pull-request for EIP-3675 on GitHub, formalizing the chain merge as an improvement proposal for the first time. The EIP has also been slated for discussion during Friday's Ethereum Core Devs Meeting by developer Tim Beiko.
Hard to overstate how valuable's @mkalinin2's work on The Merge has been, and it's finally being formalized in an EIP https://t.co/pNRerXFxVf
— Tim Beiko | timbeiko.eth (@TimBeiko) July 22, 2021
The proposal would merge the Ethereum and Eth2 chains, transitioning the network's consensus mechanism away from proof-of-work and empowering stakers to validate transactions.
The EIP notes that no "safety nor liveness failures were detected" since the launch of Eth2's Beacon Chain in December 2020, adding:
"The long period of running without failures demonstrates the sustainability of the beacon chain system and witnesses its readiness to start driving and become a security provider for the Ethereum Mainnet."
Despite the EIP, many leading figures in the Ethereum community, including lead developer Vitalik Buterin, believe it is very unlikely the chain merge will occur in 2021.
The EIP comes amid bidding for the EIP-1559 Supporter NFT series, which was launched via Mirror on Wednesday. The nonfungible tokens demonstrate support for the introduction of a burn mechanism to Ethereum's fees as part of the network's coming London upgrades. All proceeds will be shared among 1559's contributors, and the tokens were designed by artist Kitteh.
Since the launch of the Beacon Chain in December, Eth2 has emerged as the second-largest PoS network by staked capitalization in United States dollar terms, with $12.7 billion worth of Ether (ETH) locked in staking despite less than 6% of its circulating supply having been deposited.
According to Staking Rewards, Cardano has the largest staked capitalization with $24.2 billion and 62% of supply locked. Solana ranks third with $10.2 billion from 74%, followed by Polkadot with $9 billion from 63%.
Ethereum Price Could Go Up Over 860% To Break $10,000, Crypto Analyst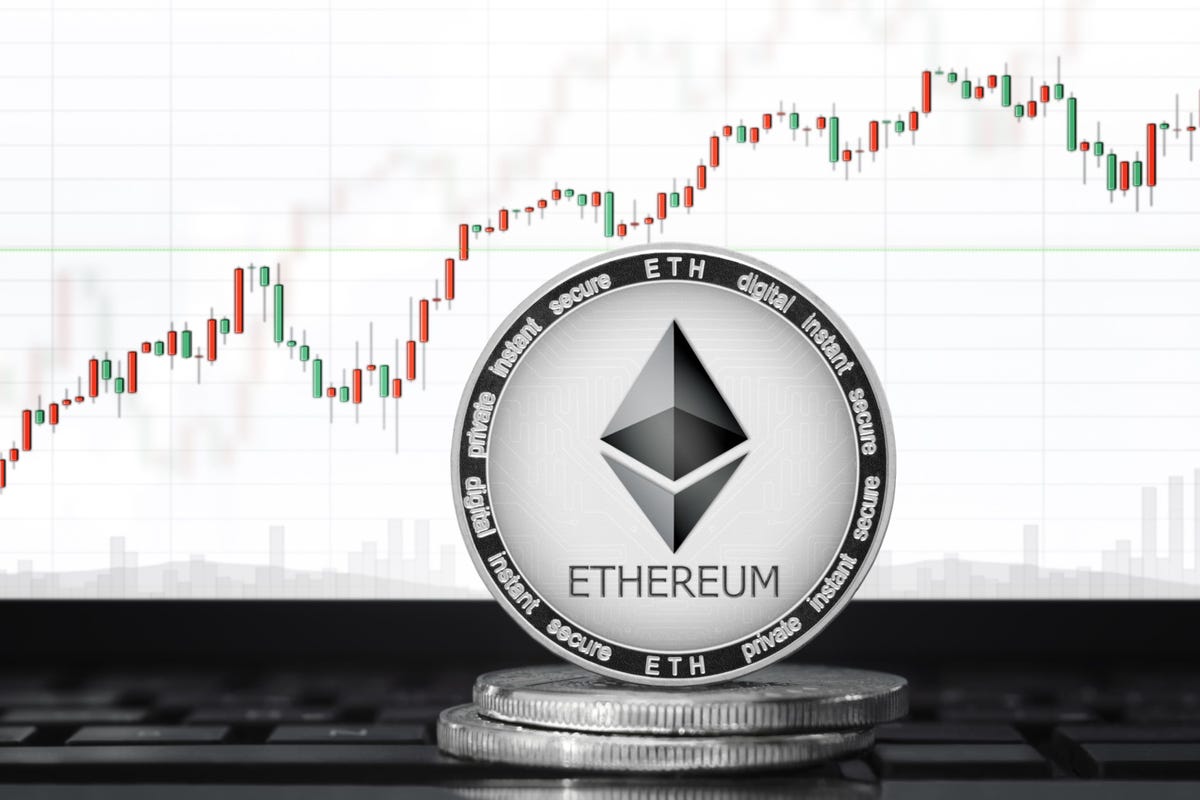 Ethereum value has taken some hits in the past few months as the Coin
" href="https://www.newsbtc.com/dictionary/coin/" data-wpel-link="internal">coin has since significant losses in the price after the digital asset had hit its all-time high back in May. The price of ethereum had gone as high a $4,300, but the price has since crashed over 50% since then and now sits at less than $2,000 at the time of this writing.
Notwithstanding, crypto analyst and trader Kaleo predicts that the price of ETH is set to grow immensely in the next 12 months. The crypto analyst looks through movements of ethereum from back in 2017 and predicts that based on this, the digital asset is poised to experience a parabolic rally in its price.
Related Reading | As Ethereum Price Suffers, Investors Wonder If ETH Can Become Deflationary
The long-term price prediction from Kaleo puts the digital asset price at over $10k, following a major altcoins season. The analyst's prediction puts the price of ethereum at well over an 860% increase in the second half of the year 2021.
Ethereum And Bitcoin Price Predictions For 2021
Taking to his Twitter, which remains his primary method of communication, Kaleo gave a couple of predictions regarding the prices of the top two digital assets in the space.
According to the crypto trader, the price of bitcoin was going to see another run-up that would put the digital asset in a six-figure discovery range. Joining the ranks of crypto analysts who have put the price of the number 1 crypto Coin
" href="https://www.newsbtc.com/dictionary/coin/" data-wpel-link="internal">coin at $100,000 before the year runs out.
ETH price down over 50% since all-time high | Source: ETHUSD on TradingView.com
In line with this, Kaleo put the price of ethereum at a whopping $10,000, not minding the current bearish sentiments that continue to rock the markets as digital assets have continuously lost value amid sell-offs from investors.
The tweet further went on to predict more adoption from institutions and governments. While simultaneously calling out that there will be continuous FUDs from institutions and governments surrounding cryptocurrencies.
My predictions for the second half of 2021:
– $BTC enters 6 figure price discovery
– $ETH breaks above $10K
– We see one more major alt season
– More institutional / government adoption
– More institutional / government FUD
– Cryptunez gets a girlfriend
– Bears remain bearish
— K A L E O (@CryptoKaleo) June 17, 2021
Long-Term Predictions For 2022 To 2023
Kaleo, who uses the handle @CryptoKaleo on Twitter, posted a follow-up tweet containing even more longer-term predictions for the top crypto coins. The tweet included price predictions for both bitcoin and ethereum, and predictions for major regulations to follow. But unlike the first predictions for the second half of 2021, these predictions were much more bearish, explaining that prices would crash in this time period.
Related Reading | Ethereum Whales Go On Buying Spree, Top 10 Addresses Now Own 20% Of All ETH
My predictions for 2022/2023:
– $BTC back down to ~$50K
– $ETH back down below $1K
– Alts die again
– Bears who were bearish the whole way up from here to the top call for infinite clout
– Major regulation comes against crypto. People call Bitcoin dead again (it isn't)
— K A L E O (@CryptoKaleo) June 17, 2021
Kaleo sees the price of ethereum falling over 90% after it hits its predicted $10,000 in the second half of 2021. Calling the price crash to be under $1,000 when this happens. Altcoins were also predicted to crash at this point, putting the general market at this point in a Bear
" href="https://www.newsbtc.com/dictionary/bear/" data-wpel-link="internal">bear stretch.
Featured image from Forbes, chart from TradingView.com
South Korea to take action against unregistered crypto exchanges
The South Korean government announced today that crypto exchanges will face punishment if they have not voluntarily registered with the country's authorities by September 24.
This new set of regulations will reportedly affect both exchanges based in South Korea and foreign exchanges that operate in Korean markets. According to the release, that includes any exchange where the Korean language is supported, marketing is geared toward Koreans, or payments can be made using the Korean won.
Under the Specific Financial Information Act, the punishment for exchanges that continue to operate without registration is up to five years in prison or a fine of up 50 million Won — roughly $43,500 USD. Sources suggest that there are plans to block websites belonging to unregistered exchanges in the future as well.
Related: Bank of Korea selects Kakao's blockchain arm for digital won tests
Korean users should check on September 25 to see if the exchange they are using is registered to avoid any related penalties. As of that date, sales made through such exchanges would be illegal within the country.
This announcement is the latest in a string of regulations concerning cryptocurrency around the globe. Earlier this week, the European Union announced plans to crack down on the sending and receiving of cryptocurrency in the hope of limiting money laundering. The SEC Chairman said cryptocurrency falls under the rules and regulations of security based swaps in the US and noted that more regulation could be coming. A meeting from the President Working Group on Financial Markets and other US agencies also took place this week concerning the use and risks of stablecoins. Regulatory recommendations are expected to be delivered in the coming months.